Meteo-san

Artwork of Meteo-san
Information
Gender
Female
First Appearance
Cosmic Baton Girl Comet-san episode 1.
Last Appearance
Cosmic Baton Girl Comet-san episode 43.
Cause/Reason
Search for the missing prince of Tambourine Star-World.
Born
Castanet Star-World
Occupation
Princess
Relationships
Siblings
None
M.U.G.E.N Information
Author(s)
Toshio and Muirtower.
Pão de Mugen
Meteo
is a major character appearing in Cosmic Baton Girl Cometto-san, she is Comet-san's self proclaimed rival and came to Earth in order to find the missing prince of Tambourine Star-World before Comet-san herself can. However, instead of searching for clues on her own,
Meteo
preffer to spy on Comet and investigate her clues to later get the upper hand in the end. But, since Comet is not quite interested in searching for the Prince, Meteo mostly get helping unwillingly her instead and only learning it in the end.
In M.U.G.E.N, Meteo was made by Toshio and Muirtower.
Move list:
Edit
DASH Kougeki Chou - F, F + x or a
DASH Kougeki Naka - F, F + y or b
DASH Kougeki Dai - F, F + z or c

MOOK Nage - QCF + punch
"IKARI NO JITAN DA!!" - QCB +kick
BATON Tsuri - QCB + punch
CASTANET BREAK - QCB + kick (can be performed in the air)
Star Power Blast: QCB, punch (can be performed in the air)
Tunnel of Stars: D,D, kick
Lv1
MOOK Nage Lv1 - QCF, QCF + x
CASTANET STORM - QCF, QCF + y
METEOR SMASH - QCF, QCF + z
Lv3
Shobatsu Meteo - QCF, QCF , F + xyz (can be performed in the air)

Punch = x,y,z
Kick = a,b,c
Screeshot:
Edit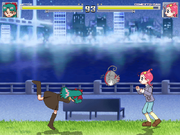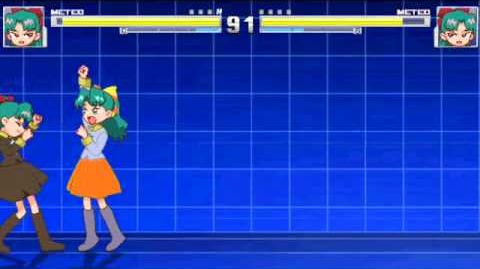 Meteo have the Tunnel of Stars which doesn't existed in the original game.
Instead of throwing Mook, Meteo will throw a Mook Bomb instead.
Meteo have a new move called "Star Power Blast" which doesn't exist in the source game.
Meteo's newest lv3 super is "Shobatsu Meteo" which replaces her super blast from the source game.