Kukuri

Kukuri as she appears in Mahoujin Guru Guru.
Information
Gender
Female
First Appearance
Mahoujin Guru Guru
Last Appearance
Doki Doki Densetsu Mahoujin Guru Guru
Age
11.
Occupation
Witch apprentice
Relationships
M.U.G.E.N Information
Author(s)
Toshio
Pão de Mugen
Kukuri
is the last survivor of the Migu Migu tribe which 300 years prior to the events of Mahoujin Guru Guru
defeated and sealed the Demon Lord Giri.
However, the seal for sealing Giri could only last for 300 years and as a side result the demon lord escaped in order to bring chaos and destruction once again.
Despite the fact the Migu Migu had helped into defeating Giri, the tribe was chased and slaughtered since their magic was considered forbidden and extremely dangerous.
As a side result, a mortaly wonded member of the tribe left Kukuri, who was just a baby, during the time in the care of the Old Witch in Jimina Village to be raised in order to leave in a journey to defeat Giri with the help of the legendary hero.
Alongside Nike, Kukuri started her travels in order to learn more about her past and then seal Giri once again.
In Mugen, Kukuri was made by Toshio.
Underground Viper:
Command:
~D,DF,F, ATTACK
Lizard Tail:
Command:
~F,D,DF, ATTACK
Gipple Tent:
Command:
D,D, ATTACK
Wake Up:
Command (while guarding):
~F, ATTACK
Power Cost: 1000
Sappari Fairy:
Command:
~D,DF,F,D,DF,F, a
Power Cost: 1000
Big Howling Cat:
Command:
~D,DF,F,D,DF,F, b
Power Cost: 1000
Super Lizard Tail:
Command:
~D,DF,F,D,DF,F, c
Power Cost: 1000
Bemu Bemu:
Command:
~D,DF,F,D,DF,F, a+b (can also be done with b+c or a+c)
Power Cost: 3000
Note:
ATTACK = a, b or c.
Screenshot:
Edit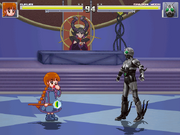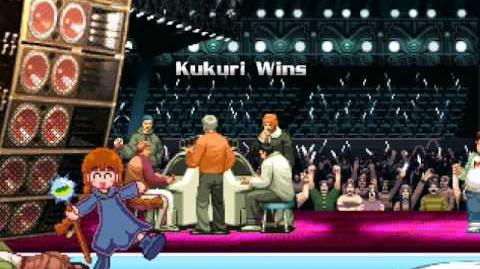 Kukuri was rather incomplete in Magical Heroines Plus, so she got new moves which are based in the anime.
Kukuri 's spin attack is inspired in Doremi's own spin attack from Magical Chaser.
Kukuri got resized effects from Magical Chaser: Stardust of Dreams.
Kukuri Bemu Bemu's sprite came from Mahoujin Guru Guru 2 due the fact the original sprite from Magical Heroines Plus had bad quality.