Comet-san

Artwork of Comet
Information
Gender
Female
First Appearance
Cosmic Baton Girl Comet-san episode 1.
Last Appearance
Cosmic Baton Girl Comet-san episode 43.
Cause/Reason
Search for the missing prince of Tambourine Star-World.
Age
Around 12.
Born
Harmonica Star-World
Birth Place
Harmonica Star-World
Occupation
Princess
Relationships
Siblings
None
Aunts and Uncles
Spica (aunt)
M.U.G.E.N Information
Author(s)
Toshio
Download
Comet
is the protagonist of Cosmic Baton Girl Comet-san, she is a princess of the distant planet Harmonica Star-World who came to Earth in order to find the missing Prince of Tambourine Star-World who have fleed to our Planet in order avoid having to propose with Princess Comet herself or Princess Meteo from Castanet Star-World. Despite this, she mostly wishes to enjoy Earth culture pretty much like her own mother did in the past.
On M.U.G.E.N,  Comet was made by Toshio based in Magical Chaser: Stardust of Dreams.
Move list:
Edit
DASH Kougeki Chou - F, F + a
AERIAL ATTACK - F, F + b
DASH Kougeki Dai - F, F + c
Hoshi no Michibiki Kyou - QCF + attack (can be performed in the air)
Hoshi no TUNNEL Naka - D, D + attack
Hoshi no Uzumaki Kyou - QCB + attack
Lv1
Hoshi no Kakehashi - QCF, QCF + a
Hoshi no Kishi - QCF, QCF + b
Hoshi no Kou Meki - QCF, QCF + c
Lv3
MIRACLE Koi Chikara - abc or HCB, F + abc
Screeshot:
Edit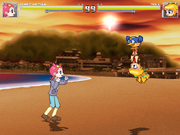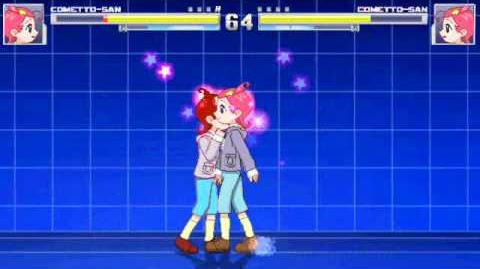 Comet can use teleport (the Tunnel of Stars) which is useful to escape from attacks and specially super motions.
Hoshi No Michibiki Kyou can be done in air.