Tetsuwan Atom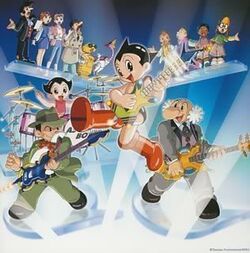 Information
Relationships
M.U.G.E.N Information
Tetsuwan Atom is a manga and anime series created by Osamu Tezuka in 1952.
In 1959 an tokusatsu series was made, however the big hit was with the anime of 1963 with 193 episodes which was later imported as "Astro Boy".
Astro Boy despite being extremelly popular is a heavilly edited version of the original series and was first dubbed in 1966 and lasted 104 episodes.
New color remakes were made: Shin Tetsuwan Atom in 1980 and "Astro Boy - Tetsuwan Atom" in 2003.
The american versions of both remakes also got wrong order of episodes, re-scripts, missing scenes, missing episodes and they were also inconsistent.
These are the characters based in Tetsuwan Atom:
Pages in category "Tetsuwan Atom"
This category contains only the following page.
U
Ad blocker interference detected!
Wikia is a free-to-use site that makes money from advertising. We have a modified experience for viewers using ad blockers

Wikia is not accessible if you've made further modifications. Remove the custom ad blocker rule(s) and the page will load as expected.